Measuring soil moisture | Four new sites and updated time series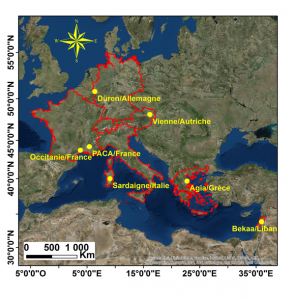 In 2018, the Soil Moisture at Very High Spatial Resolution produced plot-scale moisture maps from Sentinel-1 and Sentinel-2 over Occitania, PACA (France) and the Bekaa plain in Lebanon.
Since January 2019, other products have been produced over a full year for four sites of varying size and climate: Düren in Germany, Agia in Greece and three-quarters in Sardinia.
See all the maps are available
Finally, expending the collection, humidity maps for Occitania and Provence are now available for the period end 2018-early 2019.
Very soon, humidity maps will be available for the Vienna area in Austria.
Learn more about the Soil moisture product with high spatial resolution product.