Nearly 200 more virtual stations for the Lake and River Water Level product
Thanks to the new measurements from Sentinel 3, Hydroweb  has been offering since February 1st, 2018 nearly 200 new operated virtual stations and improved operational coverage of the lakes.
Sentinel-3A is one of the missions of the Copernicus European programme, launched in February 2016. It carries several instruments including the SRAL altimeter, which enables to measure lake and river levels along its ground tracks. Compared with previously flying altimeters like the Jason series, it is on a new orbit, overflying different rivers and lakes. It is thus improving the density of the network of the river water level products currently monitored by Jason-3: the number of operated virtual stations increases from 58 to 248 for now.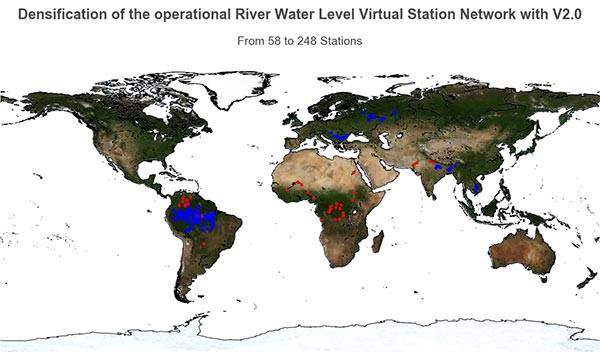 The new virtual stations are located on the Amazon, Volga, Danube and Mekong basins. The integration of Sentinel-3A SRAL measurement also allows for a better time resolution of the lake water level products. A future release will include an increased density of the river and lakes networks also over the African, Asian, European and American basins thanks to Sentinel-3A and Jason-3 altimetry missions.
More information: Hydroweb