Providing key information for environmental studies to document changes and trends
Who are you, and what is your role in the Theia consortium? How and why did you get involved in Theia?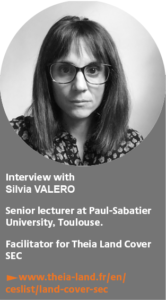 Silvia Valero: I am a senior lecturer in Computer Science at the University Paul Sabatier – IUT'A, Toulouse. My research activity within the CESBIO laboratory focuses on the fields of image processing and machine learning. I joined the Theia team in January 2021, replacing Jordi Inglada as main facilitator for the Land Cover SEC, best known for its OSO product: an annual, 10-meters resolution, automatically-produced land cover map for Metropolitan France using Sentinel-2A and Sentinel-2B data.
My involvement stems from the Sen2Agri and SenSAgri projects, which focused on the development of new methodologies for large-scale crop mapping on a European scale. My motivation for this commitment is to contribute to fostering between research organisations and users to improve the existing OSO product. It is very important for me to participate in bringing together the French community (research organisations and users) to address major scientific and societal issues. One of my main activities is the development of new machine learning methodologies for the exploitation of remote sensing data. The Land Cover product available on Theia is mainly produced by the classification of time series of optical satellite images. The synergy is clear!
What do you consider the current priorities in terms of land use mapping?
Silvia Valero: A revolution in remote sensing applications is underway in this new era of artificial intelligence and "big data". The integration of human knowledge into machine learning for land cover mapping is a very promising area of research. In this context, Theia Land Cover SEC provides an opportunity to discuss research developments and to collect knowledge from state actors and users.
The users have already raised several expectations. For example, the need for more frequent (ideally seasonal) land cover maps with adaptive land use legends. Thus, users are still in need of maps with higher spatial resolution in order to map green linear features, for example. In terms of nomenclature, the mapping of some land cover classes is unfortunately still difficult (such as areas of natural vegetation like wasteland, lawns, etc.). Users also stressed the need to map land cover from previous years (without Sentinel data) for the study of historical land cover evolution. This product could provide key information for environmental studies to document changes and trends. Unfortunately, mapping past years is very difficult due to the lack of data (satellite with high temporal resolution and reference data).
In your opinion, what are the best achievements of Theia and the major challenges for the future?
Silvia Valero: As far as I am concerned, the best achievement seems to be the availability of data and products for the different users. In this sense, Theia has enabled exchanges and communication. In the immediate future, the large volume of data represents an important challenge, both in terms of ensuring that Theia has the necessary IT structure and in terms of supporting users in dealing with the large amount of data available. What information is essential? How to respond to new user demands? How to exploit the different data modalities? Another difficult but necessary task for Theia is to match the different products (and other European products) and to ensure that the data is available to the users.
Read THEIA Bulletin n°15
>>> Dowload PDF version
>>> Read on Calaméo