Sentinel-2 L2A MAJA Workshop and Irriguated Surface Scientific Meeting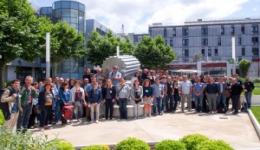 The Theia workshop for Sentinel-2 L2A MAJA products was held in Toulouse on the 13th and 14th of June 2018.
70 participants attended this workshop whose object was to collect feedback and share experiences on the quality, use and applications of the L2A surface reflectance products delivered by Theia from Sentinel-2 data.
The presentations are available on CESBIO Blog.
The first Irrigated Surface Scientific Meeting took place in Toulouse en Friday 22nd of June 2018.
The Presentations will be made available shortly.
More information: Surface Reflectance SEC | Irrigation SEC