Presentation
Theia Digital Soil Mapping SEC brings together French national organizations involved in soil mapping by statistical modeling (Digital Soil Mapping). Theia DSM SEC gathers the following teams: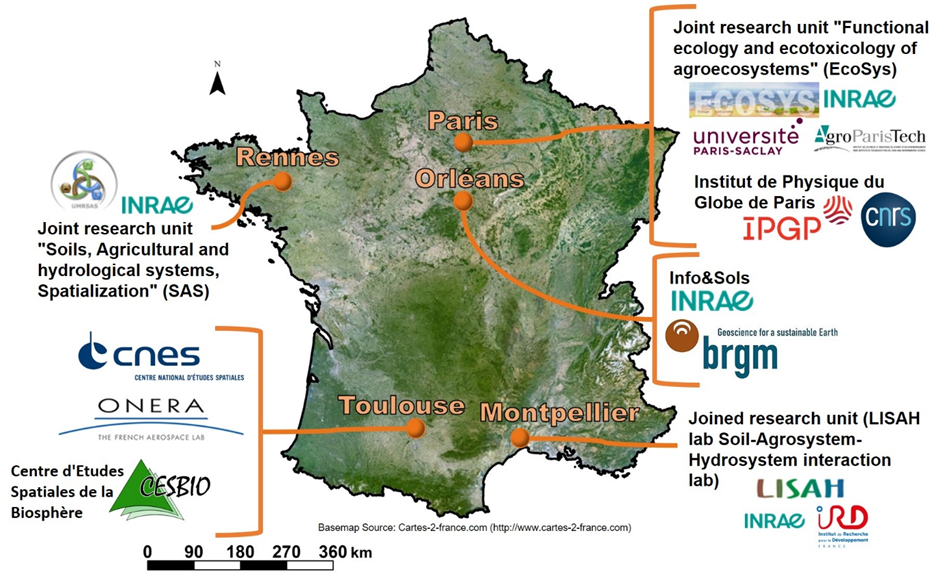 GlobalSoilMap, the product resulting from the Digital soil mapping SEC, has a resolution from 30 to 100 m and covers France and smaller French territories (regions, watersheds).
The data used are multispectral and superspectral data (Sentinel 2), soil data, digital elevation models (DEM), climate and lithological data, hyperspectral data (EnMAP, HYPXIM) and airborne gamma-radiometric data.

An example of a GlobalSoilMap France product. Soil pH prediction images (5-15 cm); in the centre modal value, left and right lower and upper bounds of the 90% confidence interval respectively.
Schedule:
2016: Building and testing of the algorithm incubator GlobalSoilMap in the pilot regions: Centre, Languedoc-Roussillon, etc.
2017-2018: GlobalSoilMap coverage for all of France + methodology guide
2020-2023: Ongoing on-line availability of national GlobalSoilMap products at 90-m resolution
2021-2023: Ongoing on-line availability of improved maps for some French regions.
2021-2023: Availability of Digital Educational Resources
Contact

References
All publications can be found on our ResearchGate Project page https://www.researchgate.net/project/The-Theia-Digital-Soil-Mapping-Scientific-Expertise-Centre-of-France
Links
At national level
At international level