Through treatment chains or distribution service, Theia adds value to a large panel of spatial products, presenting various spatial resolution and techniques.
All Theia SECs production is listed here by themes.
To download certain products, you will be asked to create a Theia account. The creation is free and open to all. If you encounter any difficulties, please make sure you have followed all the steps.
You can also choose to browse the Theia catalogue offering you to search by theme, date, sensor or geographical place. If you are a GIS users, you may be interested to use Theia WMS catalogue.
If you have question, don't hesitate to ask for information or help.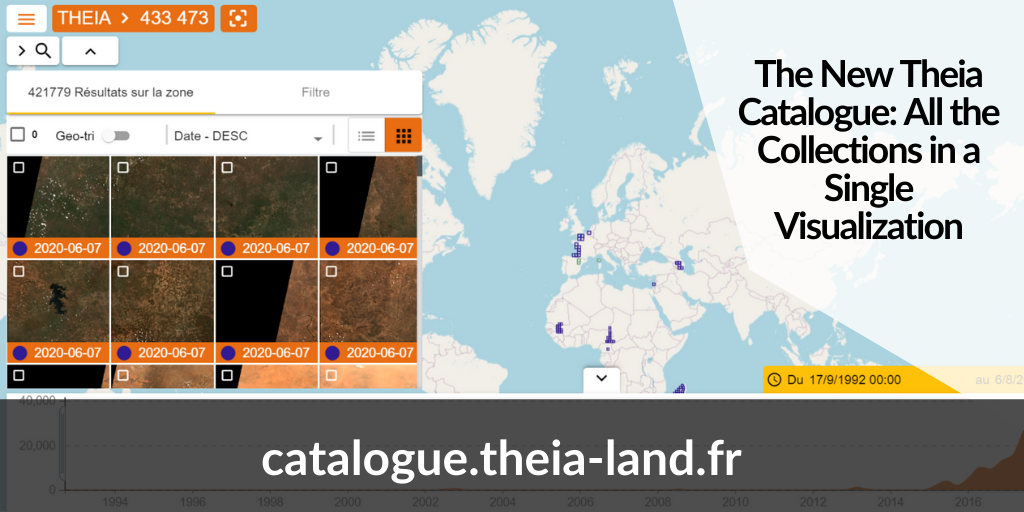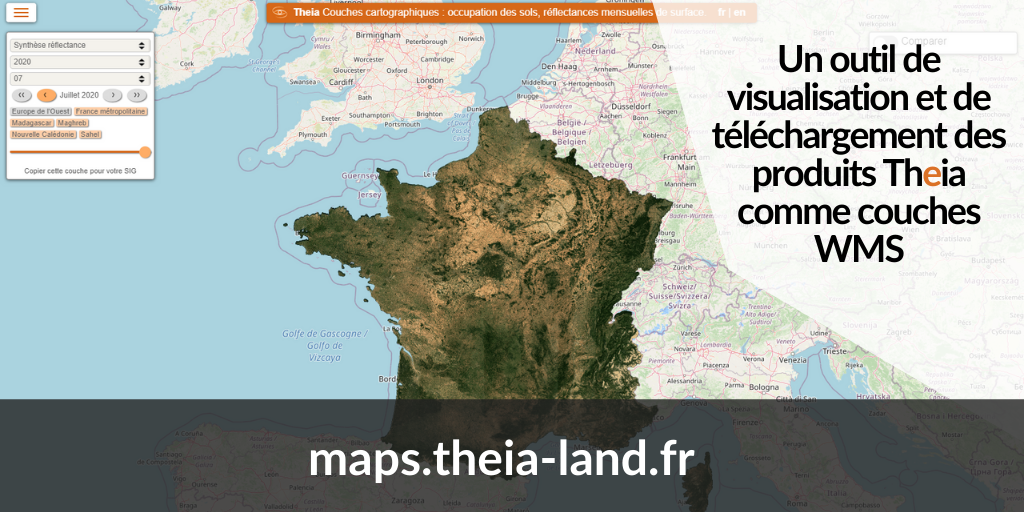 Surface Reflectance
Level 2: monodate | Level 3: monthly syntheses
Moisture
Continental Hydrology
Cryosphere
Level 2: monodate | Level 3: annual syntheses
Land Cover
Land Cover Map for Irrigation
Land Cover Maps for Health Issues
Product
Area
Time
Licence
Access
Water Surfaces
Hwangue National Park, Zimbabwe
2018
CC BY-NC 4.0
Hwangue
Gonarezhou
North Kruger
Zimbabwe National Parks Land Cover
Hwangue, Gonarezhou & North Kruger National Park, Zimbabwe
2018
CC BY-NC 4.0
Hwange
Gonarezhou
North Kruger
Land Cover
Buriram, Thailand
2006-2008
CC BY-NC 4.0
aware.cirad.fr
Land Cover
Loei, Thailand
2007-2008
CC BY-NC 4.0
aware.cirad.fr
Land Cover
Luang Prabang, Laos
2006-2007
CC BY-NC 4.0
aware.cirad.fr
Land Cover
Mondolkiri,Cambodge
2008
CC BY-NC 4.0
aware.cirad.fr
Land Cover
Nan, Thailand
2006-2007
CC BY-NC 4.0
aware.cirad.fr
Land Cover
Champasak, Laos
2007
CC BY-NC 4.0
aware.cirad.fr
Land Cover
Preah Sihanouk, Cambodge
2006-2007
CC BY-NC 4.0
aware.cirad.fr
Land Cover
Chiang Rai, Thailand
2010-2012
CC BY-NC 4.0
aware.cirad.fr
Land Cover
Kalasin, Thailand,
2011-2013
CC BY-NC 4.0
aware.cirad.fr
Land Cover
Lapsik,
Laos
2010-2012
CC BY-NC 4.0
aware.cirad.fr
Land Cover
Prachuap Khiri Khan, Thailand
2011-2013
CC BY-NC 4.0
aware.cirad.fr
Land Cover
Tha Wang Pha, Thailand
2016
CC BY-NC 4.0
aware.cirad.fr
Land Cover
Tonle Sap Lake, Cambodge
2012-2014
CC BY-NC 4.0
aware.cirad.fr
Land Cover
Kanchanaburi, Thailand
2011-2013
CC BY-NC 4.0
aware.cirad.fr
Land Cover
Kandal, Cambodge
2014-2015
CC BY-NC 4.0
aware.cirad.fr
Land Cover
Brasilia, Brasil
2017 to 2019
CC BY-NC 4.0
GeoDEV
Land Cover
Guyane-Brasil Border
Since 2017
CC BY-NC 4.0
GeoDEV
Urban
Land Units at National Scale
Vegetation
Biomass products
Radiation and Surface Roughness
Infectious Disease Risk