Data access
Presentation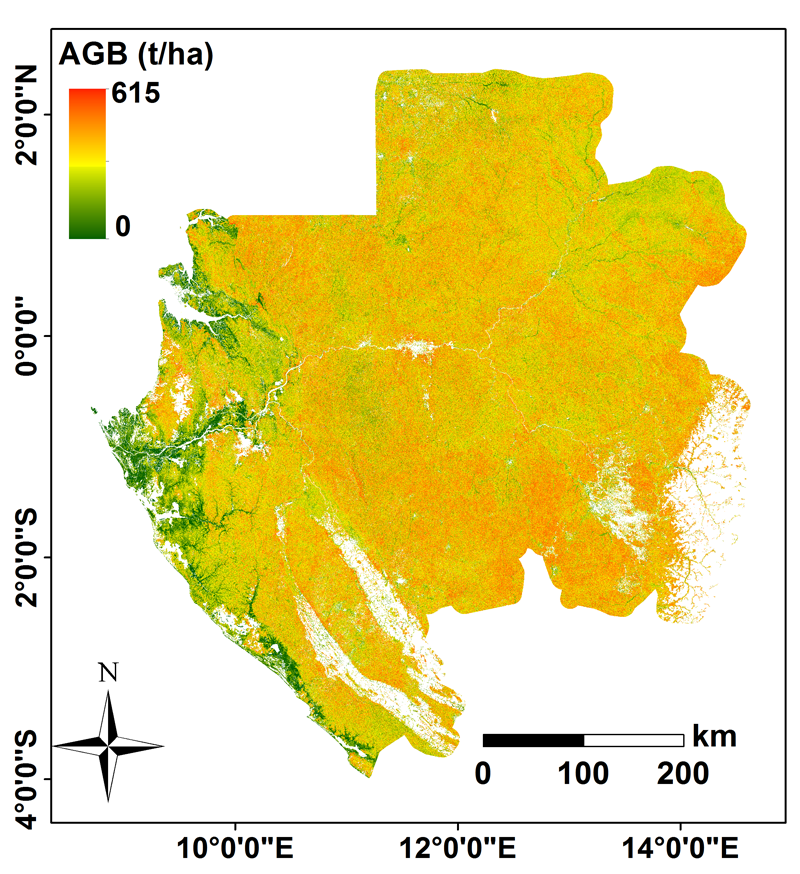 Theia Gabon biomass map, with a 50x50m resolution, has been obtained by data fusion, mainly Lidar, spatial, radar and optic. Compared to field estimation, the map accuracy is around 70t/ha.
Authors
Mohammad El Hajj (Irstea), Nicolas Baghdadi (Irstea), Nicolas Labrière (Université de Toulouse), Jean-Stéphane Bailly (AgroParisTech), Ludovic Villard (CNRS)
Thanks
Irstea, Cnes (Tosca), JAXA for ALOS/PALSAR radar data, NSDIC (National Snow and Ice Data Center) for the s lidar ICESat/GLAS lidar data, CENAREST, Gabon Parks Agency (ANPN) and the Gabon spatial agency (AGEOS).
Contact

Format
Metadata
Erdas Imagine raster
NoData: -3,40282306074e+038
EPSG: 32732
Resolution: 50 m
Pixel type: Entier signé
Time of Data
ICESat: 2003-2009
Optic data: 2010
PALSAR/ALOS : 2007, 2010 et 2015
SRTM: 2000
Field data: 2010, 2011, 2012 et 2016
References
El Hajj M., Baghdadi N., Labrière N., Bailly J.S., Villard L., 2019. Mapping of Aboveground Biomass in Gabon. CR Geosciences, in press.